Trenchless water line replacement from Gwinnett County to Gwinnett County Ga
Water line leaks on your service line from your meter or well can go from bad to worse in a hurry. Sometimes if they go unchecked can cause erosion issues under driveways or foundational problems for your house. Even a small leak can add up quickly on your water bill since leaks run 24/7 until fixed. Luckily we have the right options and equipment for any situation you are facing!
When it comes to replacement of your water service line going into your house there are a few options to consider.
Standard Trench style water line Replacement and Installation
This option is most used and can make the most sense when replacing a line thru a yard without sod or in depth landscaping that could be disturbed. This process involves cutting a trench line with a trenching machine or tractor from your water meter or well to the point of entry where your water line enters your house. This involves backfilling, grading, and sometimes weeks or a few months or working with your landscaper to get everything back in good shape.
Trenchless Water line Replacement and Installation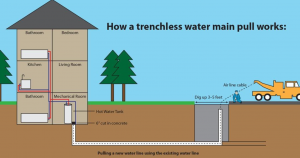 This option is a great one to consider when there is concern for your yard, landscaping, driveway, or even retaining wall that could become issues when
Using a standard installation method. We can dig fairly small hole at your meter
And one at the house where the water line enters the foundation. From here we use an aircraft cable that is rated for this type work in conjunction with a pipe splitter and tractor to pull the new line right thru your old plumbing pipe! Much less mess and hassle then tearing up the entire yard.
Final Thoughts
So if you have a leak on your water main or anywhere in or outside your house give us a call today. We are here to serve you. We offer free onsite upfront Estimates and handle everything from:
Slab leaks, leak detection, trenchless repipes, water line replacement, underground boring, tractor operation, ultra sonic leak detection, water line location services, large water line camera inspections and locating for 1.5-inch pvc and up. And many other services as well.
Schedule an appointment with us and we will show you firsthand what customer-focused trenchless water line repair service is all about.